A MISHMASHED CHRISTMAS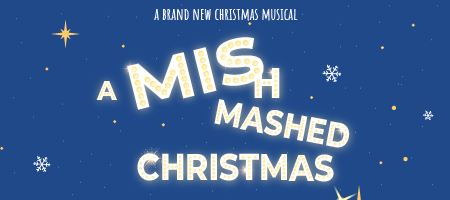 Queensway Performing Arts is proud to present the premiere of its brand-new Theatrical Production: A MISHMASHED CHRISTMAS.

This spectacular Christmas musical is a fast-paced, comedic, heart-warming extravaganza that will delight and please audiences of all ages. The musical tells the story of an artistic community that gathers to create a new Christmas Play. What will the show be? All ideas are welcome, but not all ideas are great! As each vision for the new play is presented, it comes to life on stage resulting in a show that is a terrific mishmash of musical genres and outlandish stories.

About
The production is filled with modern and energetic arrangements of familiar Christmas Carols and contemporary holiday favourites. It features an incredible cast of over 30 actors, singers and dancers, dazzling lights, sensational scenery, special effects and a live orchestra that will take your breath away. Queensway productions are attended by over 25,000 people annually, with many shows selling out, so get your tickets today and do not miss this incredible Christmas Celebration!

All shows will be held at The Church on the Queensway, an auditorium featuring 3,200 theatre-style seats.

General admission tickets are $7.50 (fees included) and can be purchased online. Doors open one hour before the listed performance times.

Show times are as follows:
Friday, December 9th @7:30 PM
Saturday, December 10th @3:00 PM
Saturday, December 10th @7:00 PM
Sunday, December 11th @3:30 PM

Order tickets by phone
& Phone Support:
226-213-4811
Hours: Monday to Friday 9am to 4pm
(Fee of $4 will apply to all phone orders)
Phone Support is free


FAQ

Are Children free? – 3 and under are free as long as they don't take up a seat. They would have to sit on their parents lap. Children 4 years and up have to buy a ticket.
Do we offer Childcare? – Yes, for 3 months to 3 years old
Is the play for kids? What age? – It is a family play.
How long is the play? Tne play is 90 minutes long.
Are tickets refundable? No but you can resell your tickets online at face value. Just go into your account and follow prompting there for "ticket resale"
A free-will offering will be taken.