The Toronto Passion Play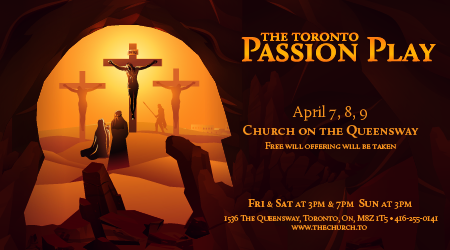 Church on the Queensway (1536 The Queensway Toronto, Ontario M8Z 1T5) is located across from IKEA. Parking is free. Facilities are wheelchair accessible.
Friday, April 7th - 3pm & 7pm
Saturday, April 8th - 3pm & 7pm
Sunday, April 9th - 3pm
The Toronto Passion Play is back with a brand new story that will delight audiences of all ages! Don't miss an incredible cast of over 80 performers, dazzling lights, sensational scenery, special effects and a live orchestra that will take your breath away. The Toronto Passion Play is annually attended by over 15,000 people and will certainly be the highlight of this Easter weekend!
About
All shows will be held at The Church on the Queensway, an auditorium featuring over 3,000 theatre-style seats.

General admission tickets are $7.50 (fees included) and can be purchased online. Doors open one hour before the listed performance times.

Show times are as follows:
Friday, April 7th @3pm & 7pm
Saturday, April 8th @3pm & 7pm
Sunday, April 9th @3pm

Order tickets by phone
& Phone Support:
226-213-4811
Hours: Monday to Friday 10am to 4pm
(Fee of $4 will apply to all phone orders)
Phone Support is free

FAQ

Are Children free?
3 and under are free as long as they don't take up a seat.
They would have to sit on their parents lap.
Children 4 years and up have to buy a ticket.

Do we offer Childcare?
Yes, Childcare is available from 6 months to SK only
Space is limited. All childcare must be reserved ahead of time. No walk ins. Register here


Is the play for kids? What age?
The play is suitable for JK and up, but some scenes may be sensitive for younger children. Parent discretion advised.

How long is the play?
The play is 90 minutes long.

Are tickets refundable?
No but you can resell your tickets online at face value. Just go into your account and follow prompting there for "ticket resale"

A free-will offering will be taken.