The Christmas Hit!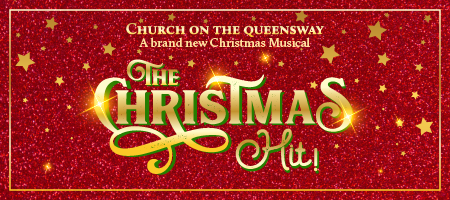 Queensway Performing Arts is proud to present the premiere of its brand-new Theatrical Production: THE CHRISTMAS HIT!

In "The Christmas Hit!" a struggling songwriter who is about to lose everything, desperately seeks to write a hit Christmas song. His life takes a miraculous turn when he is visited by a heavenly messenger who transports him through time. Along his extraordinary adventure, he encounters legendary songwriters responsible for some of the most beloved Christmas carols in history. With their guidance and inspiration, our songwriter must find the creativity and spirit to compose the next great Christmas song, hoping to bring joy to the world and discover the true meaning of the season.

Don't miss out on this hilarious and heartwarming holiday extravaganza! It's the perfect way to kick off the most wonderful time of the year!

All shows will be held at The Church on the Queensway, an auditorium featuring 3,199 theatre-style seats.

General admission tickets are $12.50 ($10 plus fees) and can be purchased online. Prices are the same online or in person at the door.
Doors open one hour before the listed performance times.

Show times are as follows:
Friday, December 8th at 7:30pm
Saturday, December 9th at 3pm & 7pm
Sunday, December 10th at 3pm

Order tickets & Phone Event Support: 226-213-4811
Hours: Monday to Friday 9am to 4pm

Note: This is not the churches phone number.
(Fee of $4 will apply to all phone orders)
Phone Support is free

FAQ

Are Children free? – 3 and under are free as long as they don't take up a seat. They would have to sit on their parents lap. Children 4 years and up have to buy a ticket.
Do we offer Childcare? – Yes, for 6 months to 3 years old (first-come-first-serve).
Is the play for kids? What age? – It is a family play.
How long is the play? The play is 90 minutes long.
Are tickets refundable? No but you can resell your tickets online at face value. Just go into your account and follow prompting there for "ticket resale"